Can I Use Bluetooth Headphones on an Airplane?
Yes, in most cases you will be allowed to use your bluetooth headphones during your flight to listen to music and watch your inflight entertainment, whether that shows you have downloaded on Netflix onto your phone/tablet, via the airline's in-flight entertainment app on your phone, an audiobook from Audible, or connecting to the seatbak in-flight entertainment system with an Airplane Bluetooth Adapter.
Although the final decision rests with the airline, neither the FAA nor IATA prohibit short-range bluetooth devices such as noise-cancelling headphones, earbuds, or AirPods while in flight.  However, in many cases the use of bluetooth devices is restricted to only once the aircraft is above 10,000 feet of elevation, meaning that you may be asked to turn off your bluetooth headphones for taxiing, take-off, and landing. 
According to the FAA:
Devices must be used in airplane mode or with the cellular connection disabled. You may use the WiFi connection on your device if the plane has an installed WiFi system and the airline allows its use.  You can also continue to use short-range Bluetooth accessories, like wireless keyboards.

- Federal Aviation Administration (FAA) - https://www.faa.gov 
When using your bluetooth headphones in-flight, be sure to keep your device in Airplane Mode, and only enable the bluetooth connection once you are at cruising altitude, generally once the seatbelt sign gets turned off.
Can I Connect Bluetooth Headphones to the In-Flight Entertainment System?
Some modern airplane cabins offer a bluetooth connection to the seatback in-flight entertainment system, which you can easily connect to by pairing your headphones with the seatback unit. 
To connect via bluetooth to a seatback in-flight entertainment system, you'll need a simple audiojack bluetooth transmitter which you can plug into the audio jack, and pair with your bluetooth headphones/earbuds. 
Keep in mind that on some traditional in-flight entertainment systems with two-pronged headphone jacks, in order to get stereo sound (both earpieces rather than only one) you will need to be plugged into both jacks, meaning that you will need a two-pronged audio to bluetooth adapter such as the 1Mii B05 Airplane Bluetooth Adapter for Headphones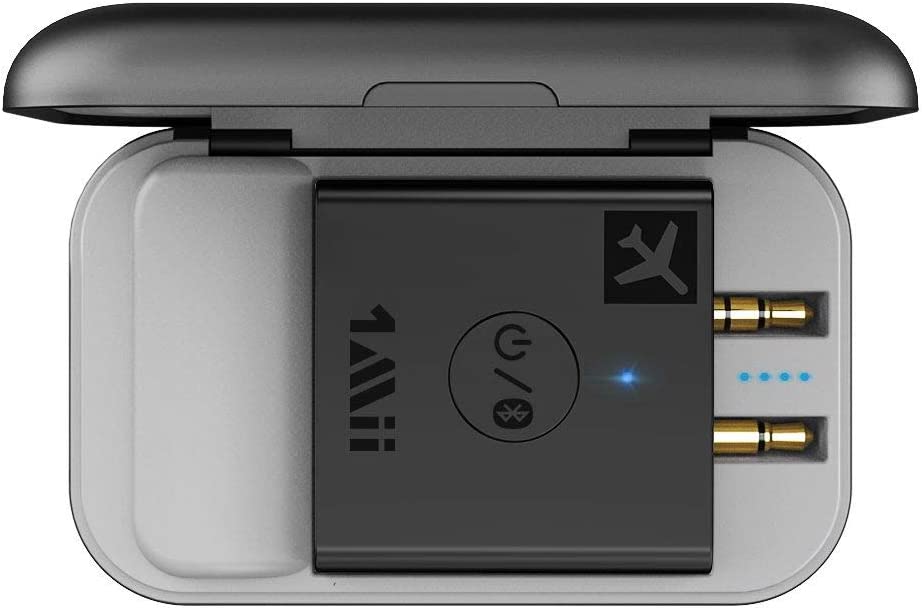 Another option, if your headphones can be plugged in, is to simply connect your headphones with an aux cable using a 2-to-1 airplane audio jack adapter that you can get off Amazon for less than $10.
For in-flight entertainment via an airline's app, you will have to download the airline's in-flight entertainment app to your phone/tablet prior to take-off, and you can connect your wireless headphones to your device as you always do.
How to Use Bluetooth Headphones in Airplane Mode?
When using your bluetooth headphones in an airplane, be sure that your phone or tablet is to Airplane Mode, or Flight Safe Mode. 
When placing your phone into Airplane Mode, the WiFi and Bluetooth connections are automatically turned OFF.  However, after placing your device into airplane mode, you can swipe open you settings screen and manually turn your WiFi and/or Bluetooth back on, while maintaining your device in airplane mode.
Doing so, you can connect your device to the inflight entertainment system via WiFi to stream movies and TV shows via the airline's app, and connect your phone/tablet via bluetooth your regular headphones, earbuds, or AirPods.
Best Noise-Cancelling Headphones For Your Flight
Take a look at our article about the best active noise-cancelling headphones for airplane travel for a full run-down of the best options, but if you're in a rush here our top picks for Best Overall and Best Under $100:
Overall Best Value / Most Popular: Sony WH-1000XM4 - https://amzn.to/3PJ6DUR
Best Under $100: Soundcore by Anker Life Q30 - https://amzn.to/3oeFiOp
Travel Bluetooth Transmitter: Twelve South AirFly Pro Bluetooth Transmitter- https://amzn.to/3PDsXip
2-Prong Bluetooth Transmitter: 1Mii B05 Airplane Bluetooth Adapter for Headphones - https://amzn.to/3B1YOFF
2-to-1 Audio Travel Jack Adapter: Gold Plated Airplane Flight Headphone Adapters - https://amzn.to/3zgo61i
Related Pages...
Flying with Marijuana - Rules for Flying with Cannabis [2023 UPDATE]
Rules for Flying with Vape and E-Cigarettes [2023 UPDATE]
Delayed Flight Compensation Guide 2023
Flights Affected by the Coronavirus / COVID-19 in 2023
Can I Bring a Drone on an Airplane [2023 Update]
The Best Lightweight 62-Inch Suitcases Available - Top Rated in 2023
Airline Rules for AirTags and Luggage Trackers
TSA 3-1-1 Carry-On Liquids Rules
What is Piece Concept vs Weight Concept
Can I Use Bluetooth Headphones / AirPods on a Plane