For services between Guernsey or Jersey and the UK: GBP 10.00 per kg.
All other services GBP 3 per Kg.
Enhanced Baggage Allowance
Passengers may pre-book an additional 20kg of hold luggage on all our UK routes (excluding Southampton) on payment of GBP 28.00 per person per sector. Only one Enhanced Baggage Allowance per passenger is permitted. The Enhanced Baggage Allowance may also be combined with a Connecting Baggage Allowance, where all the required conditions are met. Minimum notice 4 hours prior to travel. Can only be pre-booked through Reservations; not available at the Airport. There is a maximum of 6 pre-booked items per flight so this facility may not always be available. Non-refundable.
Charges and Fees Summary
Correct as of October 8 2011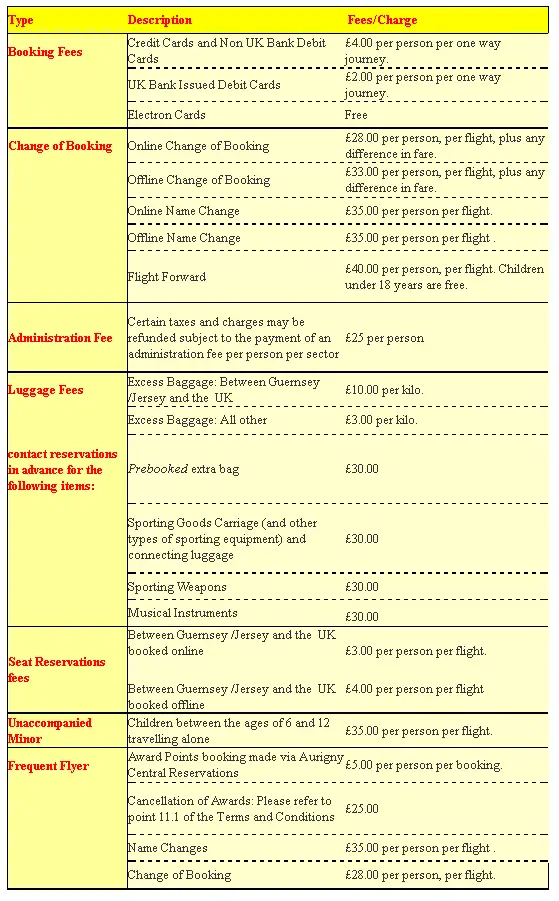 Sporting goods
Whenever space and payload permits Aurigny will endeavour to carry your sporting goods.
If your total baggage is within your 20kg allowance no additional charges will apply, except in the case of sporting weapons for which an administration charge will be applied.
In the event of your combined personal baggage and sporting goods exceeding your 20kg free hold baggage allowance, a Sporting Goods charge will be applied per sector which will increase your hold allowance by 20Kgs. If your total baggage weight exceeds the combined 40kg allowance, normal Excess Baggage charges will be applied. Only one piece of sporting equipment will be considered for the Sporting Goods charge, any further pieces will be treated as excess baggage.
Sporting goods and any other baggage in excess of your free baggage allowance will be carried subject to payload. In the event of items travelling on a later flight than yourself, you will be responsible for collecting these from the destination airport.
Sporting goods are carried on a Limited Release basis only; Aurigny will not accept responsibility for accidental damage in transit.
Musical Instruments
Only by prior arrangement with Aurigny, customers may be able to carry musical instruments through security search provided they can be x-ray screened. Musical instruments will be calculated as part of your free baggage allowance and, in the event of this being exceeded, excess baggage charges will be applied.
Musical instruments will be carried on a limited release basis only (we will not take responsibility for damage in transit).
To make arrangements for the carriage of musical instruments, please call Aurigny Reservations for details on UK 44 (0) 1481 822886.
Do not book seats for musical instruments via our website, doing so will likely to result in your instrument being refused carriage.
Live Animals
By prior arrangement, registered Assistance dogs are able to travel on all Aurigny services, with the exception of flights to/from Dinard. To book call Reservations on UK 44 (0) 1481 822886. By prior arrangement, domestic pets are able to travel on flights between Jersey-Guernsey, Guernsey-Alderney, and Alderney-Southampton on flights operated by Trislander aircraft.
Dogs normally accepted for travel in aircraft cabin, accompanied by owner/handler, 1 animal per flight or 2 if from same household, 1 handler per dog. Dog will be charged at applicable adult fare, less taxes. Owner to provide muzzle and waterproof seat cover. Small dogs may travel in suitable pet-carrier.
Cats must travel in waterproof cat box, may travel in cabin (provided no dogs already booked on that flight), charged at applicable adult fare, less taxes, or may travel in the hold and charged as Excess Baggage at current rates.
In all cases: call reservations on UK 44 (0) 1481 822886 to book or for further details.
Domestic pets are NOT permitted on regional flights operated by ATR-72 aircraft between UK-Guernsey/Jersey, Guernsey/Jersey - UK or flights to/from Dinard.