On domestic flights, passengers will be charged 2 EUR for each kilo over the appropriate limit. On international flights the charge for each excess kilo will be equivalent to 1.5% of the official IATA fare. For more information, please contact our reservations department.
SPECIAL BAGGAGE
Sports equipment on international flights operated by Aegean
There are three categories of sports equipment (small, medium, large). The charge levied for carrying such equipment depends on the category to which it belongs and is not covered by the kilos each passenger is allowed to carry free of charge. For carriage of such items to be approved, the passenger must communicate in advance of the journey with the Reservations Department to inform us of the equipment in question and its dimensions.
Category: Small
Small equipment must weigh no more than 15 kilos and be no longer than 1.40 metres.
Category: Medium
The equipment must weigh no more than 15-32 kilos and be no longer than 1.41 to 2 metres.
Category: Large
Equipment falls within this category if it weighs more than 32 kilos and is longer than 2 metres.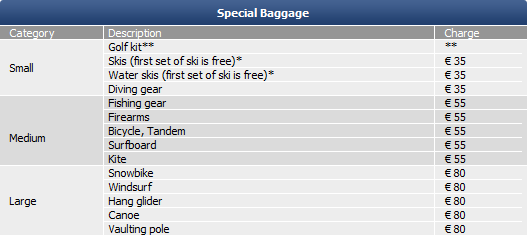 * First set of ski is free
** Golf equipment will be carried free of charge on both international and domestic routings, even if exceeding the free baggage allowance
To be charged at the above rates, the sports equipment must consist of no more than the listed items (see sport equipment policies below). If additional items are to be carried apart from those listed for each form of equipment, then excess baggage charges will be levied.
* On journeys involving a transatlantic flight and on flights operated in cooperation with other airlines, the charges may differ. For more information, please contact the Reservations Department.
Sports equipment on domestic flights operated by Aegean
On domestic flights, sports equipment is included in your free baggage allowance. For carriage to be approved, you need to contact our Reservations Department in advance of your journey to notify us that you will be carrying the items in question and to inform us of their dimensions.
Carriage of Musical Instruments
Aegean Airlines provides the opportunity to travel with your musical instrument - which must be carried in a secure, hard case. The instrument may be checked in to be carried in the hold, or taken with you on board the plane. If checked in, the weight of the instrument is counted as part of your regular baggage allowance and any excess weight will be charged as appropriate. Also, when you check in the instrument you will be asked to sign a Limited Release Form, in which you agree that the musical instrument is being carried entirely at your own liability.
If you wish to take the instrument with you on board the plane, it will be counted as hand luggage and its dimensions must not exceed 55cm in length x 40cm in height x 23cm in width; it must not weigh more than 8 kilos. If the instrument exceeds these limits then you must contact the Reservations Department to reserve an extra seat, to be charged at the least costly regular fare available. The extra charge will be paid at the airport on departure. For more information, please contact the Reservations Department.