General
Checked baggage is baggage Of which Moldavian Airlines takes custody, and For which Moldavian Airlines issues a baggage check (included in the ticket) and one baggage identification tag per piece of baggage.
Checked baggage normally is foreseen to be carried in the hold of the aircraft the passenger is travelling on.
Acceptance Rules
Moldavian Airlines may refuse to carry checked baggage and gate delivery items which are:
Likely to endanger the aircraft, persons or property.
Likely to be damaged by air carriage.
Unsuitably packed.
Forbidden by any applicable laws, regulations or orders of any State to be carried from, into or over.
Unsuitable for air carriage due to its weight, size or nature.
All checked baggage must be properly packed in sufficiently rigid suitcases or similar containers to ensure safe carriage.
Every piece of baggage must show the passenger's name and address.
Every piece of baggage must show the passenger's name and address. Because of their weight, size or nature, certain items are only accepted with prior consent of the carrier at time of booking (see below, Restrictions on Acceptance).
NOTE: In case of code-share flights, operated by another carrier, the rules might be different from the ones described in this chapter.
Contents
Checked baggage may not contain the following items:
Fragile items.
Valuable items.
Perishable items.
Dangerous goods.
The following items should be carried as cabin or carry-on baggage:
Travel documents, medical certificates
Business documents
Portable PCs and other electronic equipment
Musical instruments, pictures, etc.
Money, jewelry, negotiable papers
Medicines
Restrictions on Acceptance
Due to quantity limitations or due to their weight, volume or nature, the following items may be carried as checked baggage only with the prior consent of the carrier(s) at the time of booking: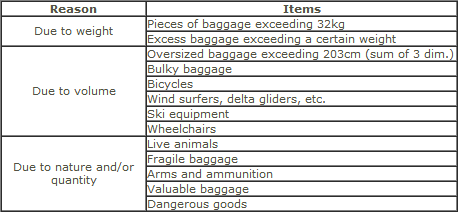 The following are Free Allowances for adults and children over 2 years:
Standard Free Baggage Allowance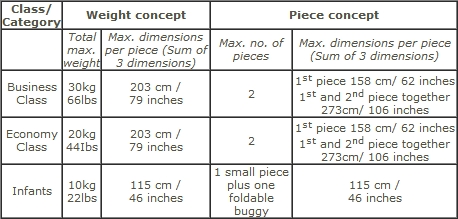 Other
Certain fares allow for more baggage (e.g. emigrants, passengers with connection for long-haul transatlantic flights, etc.). e.g. Seamen are allowed max. 30 kg. In such cases, the allowance must be shown in the appropriate box on the ticket at the time of ticket issuance.
In case of exceedance of normal allowances, of the hold baggage, gate delivery items, or other non normal items, during the check in procedure, this information will be mandatory communicated to Load Control department.
Different regulations apply for flights to and from Canada and the USA (children under 2 years age are entitled to 1 piece of baggage not more than 32 kg (70 lbs.) and Any baggage in excess of the above entitlements is subject to excess baggage fees.
In case your personal baggage exceeds the free baggage allowance, Moldavian Airlines will accept it only as: excess baggage