Be sure to check out our sister-site, Airline-Pet-Policies.com, for information about flying with your cat, dog, or other pet.
↑ Back to Top
Kuban Airlines Checked Baggage Fees 2012 - Checked Bag Weight & Size Limits
Baggage allowance by the Airline:
30 kg for business class passengers;
20 kg for economy class passengers
With total sum of measurements of three sides not exceeding 203cm for each item.
Standard free baggage allowance does not cover:
Oversized luggage (when total size of 3 measurements of each of the items of baggage exceeds 203 cm);
Heavy baggage (weighing over 32 kg);
Pets (birds) except guide dogs accompanying blind person
These are charged at their actual weight, regardless of the number of other things passengers carried as luggage.
It is not recommended to put in your checked baggage fragile or perishable items, money, jewellery, precious metals, securities and other valuables, business documents, keys and other similar items.

Linear Dimensions: What are Linear Dimensions?
Piece vs Weight: What is Piece Concept vs Weight Concept
Packing List: Travel Packing Checklist 2023
Marijuana / Cannabis: Rules for Flying with Marijuana / Cannabis in 2023
Delayed/Cancelled Flights: How to Claim Compensation for Flight Delays
Guns / Firearms: How to Fly with a Gun - TSA Rules 2023
↑ Back to Top
Kuban Airlines Overweight Baggage Fee 2012 - Extra Bag Fee - Oversize Baggage
The cost of flights for airlines "Kuban" is already included standard free baggage allowance as specified in the ticket:
For passengers of business class - 30 kg
For passengers of class "Comfort" and " Premium steward "- 30 kg
For passengers in economy class - 20 kg
Pay for baggage in excess of the norm can be free at the box office of departure airports. rates to pay for excess baggage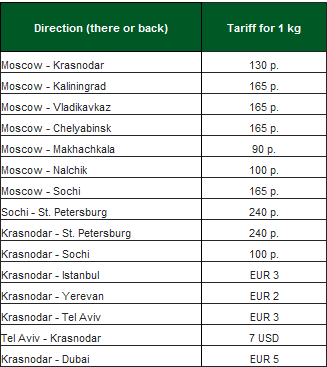 Last Updated: 10 May 2012