When traveling with Blue1 and SAS, you are always allowed to bring at least one checked baggage without extra cost. The number of bags and weight varies depending on ticket type. Below you find information about the number of bags that you are allowed to check in free of charge on flights operated by Blue1 and SAS to/from all destinations.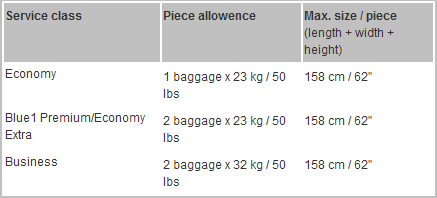 Checked baggage for children and infants
Children have the same baggage allowance as adults, as listed above. Infants under 2 years can, regardless of booking class, bring as checked baggage one bag up to 23 kg / 50 lbs (max 115 cm / 45") plus one collapsible stroller. Please keep in mind that you cannot bring any cabin baggage for your infant under 2 years old.
More baggage for EuroBonus members
As a EuroBonus Gold, Silver and Star Gold member you are allowed to bring along one (1) extra piece of baggage free of charge. Baggage weight rule is according to booked service class.
Flights operated by partner (code share) or other airlines
Other baggage rules may apply when flying with flights operated by other airlines than Blue1, SAS and Wideroe. Please check with the respective airline before departure.
Baggage through check
If the entire journey is on same ticket (booking reference) your baggage will be checked through to final destination on almost all airlines. If you have a connecting flight on separate ticket/booking and the connecting flight is with another airline than Blue1 or SAS, you must pick up the luggage during transfer at the intermediate station and check it in again. Same applies if the journey starts with another airline than Blue1.
Baggage drop
If you have used any of our Self Service check-in options, you should leave your baggage at the Baggage Drop counter. The staff at the counter will make sure that the baggage tag is matched with your ticket and your ID.
Check- in your baggage in advance
You can check-in, even baggage, at Helsinki Airport the evening before departure if your flight is before 10.00 the next morning. In case you also check in your travel partners you must have their IDs/passports with you. Opening hours for preliminary check-in are Sun-Fri 18:00-21:00, Sat 16:00-18:00.

↑ Back to Top
Blue1 Overweight Baggage Fee 2012 - Extra Bag Fee - Oversize Baggage
If you travel with extra baggage or if your bags are too heavy or too large, you pay a flat rate per baggage. Below you see what it costs if you travel with extra baggage.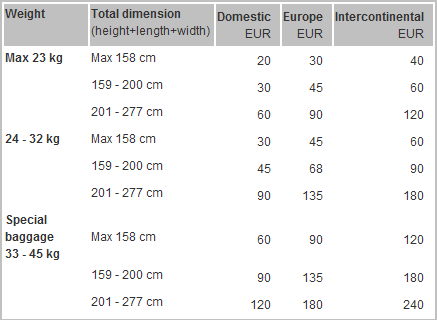 Maximum of 4 extra pieces of baggage per passenger.
Payment options for extra baggage
You can pay for your extra baggage when you check in via our online check-in that opens 22 hours before departure or at the airport upon departure.
Payment online
When checking-in online, the passenger receives detailed information about free baggage allowance, which is based on booking class and frequent flyer tier level. The passenger can then add extra pieces of checked baggage and pay the excess charges already at this time by inserting the credit card information in the check-in dialogue.
Payment at SAS Self Service Kiosk
The SAS Self Service Kiosks are now also equipped with credit card payment devices.
In Finland these kiosks are available at Tampere, Turku, Vaasa, Oulu and Kuopio airports (i.e. not in Helsinki).
Hence, at SAS Self Service Kiosks passengers can now not only check-in, but also add extra pieces of baggage and pay the excess charges. SAS Self Service Kiosks issue baggage tags only for baggage included in the total free baggage allowance and for excess baggage already paid for. SAS Kiosks also support passengers traveling with snow ski equipment.
Our new check-in functionalities can also be used by disabled passengers traveling with a wheelchair, as a baggage tag must be issued for the wheelchair even though the wheelchair is never charged for.
Common Use Self Service Kiosks CUSS
Common Use Self Service Kiosks (CUSS), for example those available at Helsinki Airport, do not handle payment of excess baggage.
If passenger checks-in baggage exceeding his/her free baggage allowance at a CUSS kiosk, the passenger receives baggage tags for all pieces. Information about the extra number of excess baggage pieces is sent to the Baggage Drop, so that the agent can clearly see how many pieces shall be charged for.

Last Updated: 01 May 2012