Your free Checked baggage allowance on Air Tahiti Nui operated flights is detailed below.
Exceptions:
a) When through-checking your bags on connecting flights, operated by two or more different airlines, different baggage allowances may apply to those stated below. Contact Air Tahiti Nui or the airline/s concerned for more details.
b) For flights operated by other airlines, including code share flights with an Air Tahiti Nui flight number, please verify your baggage allowance directly with the operating airline.
All Destinations


To/From Japan for tickets issued on or before June 30, 2011
For tickets issued on or after July 1st 2011, please refer to the table above.


Any piece that weighs over 70 lbs / 32 kg's will not be accepted and must be shipped as AIR FREIGHT
A MAXIMUM total of 4 pieces per passenger allowed, including the 2 free and 2 excess baggage.
*** Government and labor regulations limit the maximum weight per piece to 70 pounds / 32 kilos for safety reasons.
In addition to the baggage allowances referred to above, the following items may be carried free of charge in the hold:
Infant's carry basket
A fully collapsible wheelchair or mobility aid, subject to occupational health and safety requirements and aircraft limitations

Connecting with Other Airlines
If you have a connecting flight with another airline, and it is ticketed on the same ticket as your Air Tahiti Nui flight, then your baggage may be able to be through-checked if; Air Tahiti Nui has a baggage agreement with the other airline and depending on the systems available at the airport. Please check with your Air Tahiti Nui office for details.
When separate Air Tahiti Nui tickets have been purchased, or where the through-checking of baggage is not available between Air Tahiti Nui and the other airline, and in order avoid the inconvenience and costs of a missed flight, please ensure that enough time is allowed between flights to enable; the collection of baggage, clearance of immigration and customs, and check-in for the onward flight, as well as allow for any potential delays.
↑ Back to Top
Air Tahiti Nui Overweight Baggage Fee 2011 - Extra Bag Fee - Oversize Baggage
For Travel commencing on/after July 1st 2011
When piece concept applies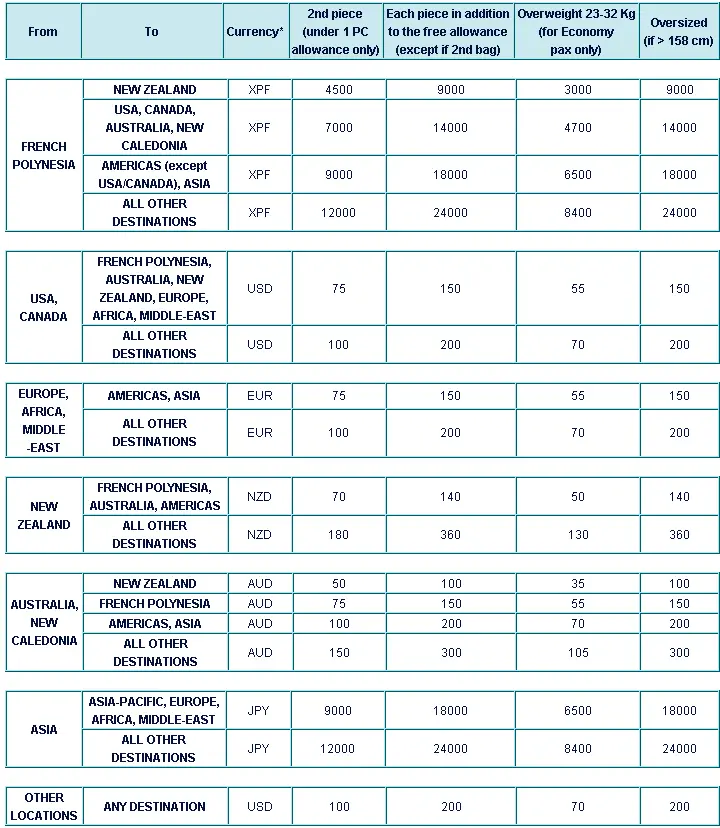 (*) Or equivalent in local currency.
When weight concept applies



(*) Or equivalent in local currency.
No single item may exceed 32kg in weight when you check-in.
SPECIAL BAGGAGE POLICY
The following policy applies to special items that may not conform to the maximum permitted size/dimensions:
ASSISTIVE DEVICES (Wheelchairs etc)
Allowed free of charge, IN ADDITION TO the free allowance. No limit in terms of number, weight or size.
SPECIAL ALLOWANCE FOR SURF**, GOLF & DIVING EQUIPMENT*
One (1) bag allowed free of charge, IN ADDITION TO the published free allowance if;
It is presented for carriage in a single appropriate & secure package
It does not exceed 23kg maximum weight
**Surf board, paddle board and kite surf equipment.
*NB: In all cases the second and any subsequent items of sporting equipment are subject to published Excess Baggage Charges (Extra Piece/Oversize and/or over weight as applicable)
Last Updated: 21 Sep 2011