Depending on where you are traveling. Your baggage allowance is based on weight or number of pieces. The following table provide the free allowance for each class.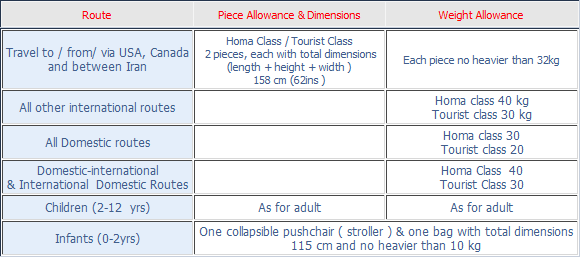 Any luggage over these allowances may be subject to charges.
In both situation, either piece or weight concept, each piece could not be heavier than 32kg and with total dimensions (length + height + width) more than 158 cm
According to international regulations every passenger is allowed to carry at most 30-kg baggage with an ordinary ticket and 40 kg with "Homa Class" during international flights.
For the American passengers the baggage is computed as parcels. On these routes the allowed baggage for every passenger is 2 parcels provided that the passenger holds the confirmed ticket for the final destination of either America or Canada at most 24 hours after entering, and then his parcel could be accepted for the final destination.
The maximum baggage weight for carrying in domestic flight for every passenger with an ordinary ticket is 20 and with "Homa Class" is 30 kilograms.
Notice that fragile items or containers with liquids should not be placed in your baggage. Negotiable papers, valuable items, jewelry, etc. should not be placed in your baggage. It`s obvious that in case of any loss for the above- mentioned items IranAir takes no responsibility
Children
Those IranAir passengers who are smaller than two years old are considered as infants and without reserving ticket pay at most 10% of the ticket cost of the route. They are also allowed to carry freely 10 kilograms as baggage.
The passengers, who are between 2-12 years of age, are addressed as children and by considering their rights to reserve the seat, pay at most 50% of the ticket cost of the route and like adults are allowed to carry 30 kilograms as baggage.
↑ Back to Top
Iran Air Overweight Baggage Fee 2011 - Extra Bag Fee - Oversize Baggage
If you have personal baggage that is in excess of your free allowance, Iran Air will be able to carry your luggage in either of two ways
Excess Baggage
Unaccompanied Bags
If you want all the baggage to travel with you, then we will apply Excess Baggage charges, the amount is dependent on whether your allowance is based on the piece or the weight allowance.
For extra baggage based on the distance to the destination and the baggage weight, the passenger should pay some expenses.
In case that you want to take the advantage of special facilities and discounted prices you should send your baggage in the form of unaccompanied (bill of lading) cargo. Otherwise the price of your baggage is according to the 0.01 of the price of the ticket of the same route per kilogram. Please pay attention that you should declare your extra baggage in the origin because in case of probable loss of your baggage or suitcase the compensation is just based on the weight mentioned in your ticket. After weighing your baggage and suitcase notice to stick the numbered tags on them and get the receipt. If your extra baggage is more than usual please contact the baggage section of IranAir to get the discount for the unaccompanied baggage.
Special Baggage Items
There are facilities for taking special items as passenger baggage, please contact your local Iran Air office for details about the shipment of:
Pets & animals
Dogs for the blind and deaf
Sporting Equipment & Bicycles
Portable dialysis machines
Wheelchairs
Musical instruments
Oxygen cylinders
Blood samples
Fragile & valuable items
Dangerous goods
Disabled passengers
We are happy to welcome passengers who have limited mobility on board our flights.Iran Air offers special facilities and assistance to make the journey safe and pleasant.
The following facilities are available free of charge:
Meals that meet special dietary requirements, assistance during boarding , transfers and disembarking the transportation of your own wheelchair, walker or scooter.
For more detailed information about the special facilities, services and assistance we offer passengers who have limited mobility or may need medical care, contacting their local Iran Air offices.
Last Updated: 26 Sep 2011