Checked Baggage is any item accepted for carriage in the aircraft hold, including bags, infant, musical, sports and mobility equipment.
REDjet operates as a low fares airline and as such we encourage you to travel with less bags to save you money. We recommend that passengers use their 10kg fee cabin baggage allowance (see Cabin Baggage Dimensions) and limit their checked bag to one (1) piece only. We provide for a large bag of up to 30kg to help you save money.
If you require a second checked bag you will be charged the full baggage fee for the bag%u2019s size and we also advise that you ensure your bag is the right weight before arriving at the airport. Each passenger is permitted to check in up to a maximum of two (2) bags subject to the payment of the applicable checked baggage fees as follows:



If you pre-purchase your bag weight prior to arriving at the airport and you try to check-in a heavier bag for your flight the following charges will apply: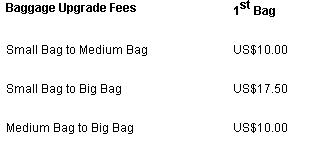 The maximum acceptable weight for a single piece of checked baggage is 32kg.
Any passenger exceeding the 30kg personal checked baggage limit will be charged for the excess at the applicable rate of US$10.00 per kilo (or local currency equivalent).
Pooling of weights between bags or passengers on the same reservation is NOT permitted.
Infants travelling without a ticket do not have a baggage allowance. However one collapsible push chair per infant may be carried free of charge. Additional infant equipment including but not limited to car/booster seats and travel cots are charged at US$5 per item per one way flight if paid online or at the time of booking, and US$10 if paid at airport/call centre or agent.
Mobility equipment is carried free of charge.
We do not take responsibility for unsuitably packed, perishable, damaged or fragile baggage or for minor damage to the exterior of baggage resulting from normal wear and tear.