For all Corendon Airlines flights baggage allowance limit is 20 kg. Even if you pay for excess baggage, one piece of baggage may not be heavier than 30 kg.
For excess baggage you pay a fee on Corendon Airlines flights as follows (fee for one way only).
WEST EUROPE: 7 EUR per Kg.
(Belgium, Netherlands, Denmark, France, Germany, Italy, Poland, Estonia, Norway, Sweden, Finland)
EAST EUROPE & MIDDLE EAST: 5 EUR per Kg.
(Iran, Israel, Kosovo, Romania)
CIS COUNTRIES: 8 EUR per Kg.
(Kazakhstan, Azerbaijan, Uzbekistan, Turkmenistan, Tajikistan, Kyrgyzstan)
Special Baggage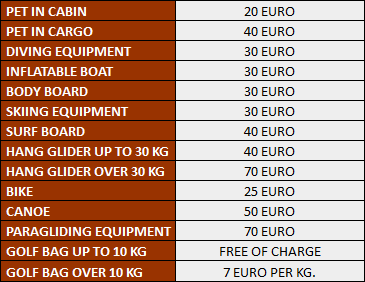 Special requests are subject to Corendon Airlines confirmation.
Wheelchairs
Wheelchairs will be carried in the cargo compartment free of charge as checked baggage even over the free baggage allowance if the passenger is dependent.
Battery driven wheelchairs, with non-spillable batteries, dry cell batteries or non-spillable wet cell batteries can be carried as checked baggage in the aircraft cargo compartment provided that the battery is disconnected and securely attached to the wheelchair and the poles are insulated.
If a wheelchair cannot always be loaded, stowed, secured and unloaded in an upright position, the battery must be removed and checked in separately. For transportation the battery must be put into a plastic bowl or plastic bin to prevent contamination and corrosion of the cargo compartments.