↑ Back to Top
Airnorth Checked Baggage Fees 2011 - Checked Bag Weight & Size Limits

PLEASE NOTE: All flight numbers for Arnhem Land (TL200 - TL299) and the Gulf (TL400 - TL499) are operated by the E120 Brasilia.
Check in baggage allowance on E170 Jet - 20kg unless connecting to a smaller aircraft
Check in baggage allowance on E120 Brasilia - 13kg
Check in baggage allowance on Metroliner 23 - 13kg
Linear Dimensions: What are Linear Dimensions?
Piece vs Weight: What is Piece Concept vs Weight Concept
Packing List: Travel Packing Checklist 2023
Marijuana / Cannabis: Rules for Flying with Marijuana / Cannabis in 2023
Delayed/Cancelled Flights: How to Claim Compensation for Flight Delays
Guns / Firearms: How to Fly with a Gun - TSA Rules 2023
↑ Back to Top
Airnorth Overweight Baggage Fee 2011 - Extra Bag Fee - Oversize Baggage
Baggage in excess of 13kg on the E120 and M23 will be uplifted on a stand by basis. Baggage in excess of 20kg shall be paid for at the applicable rates. Excess baggage charges vary, dependant on your travel path and are subject to change without notice.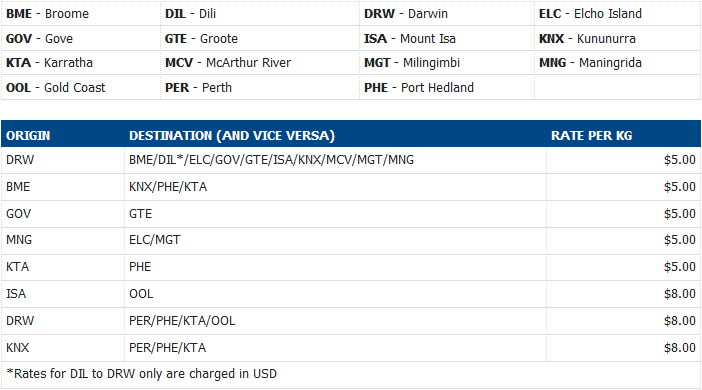 The carrier accepts no liability whatsoever for loss of or damage to any baggage resulting from the inherent defect quality or vice of goods carried or for loss of or damage to registered baggage not collected by the passenger within a period of twelve hours after the arrival of the aircraft at destination.
Wheelchairs
Items such as wheelchairs, crutches or prosthetics required by special needs passengers may be carried in the aircraft hold at no extra charge, providing the passenger has notified Airnorth prior to making their booking.

↑ Back to Top
Airnorth Sports Equipment Policies 2011
Sport
Accepts
View Policy
Sorry, there is no sports equipment information available for Airnorth
Last Updated: 21 Sep 2011