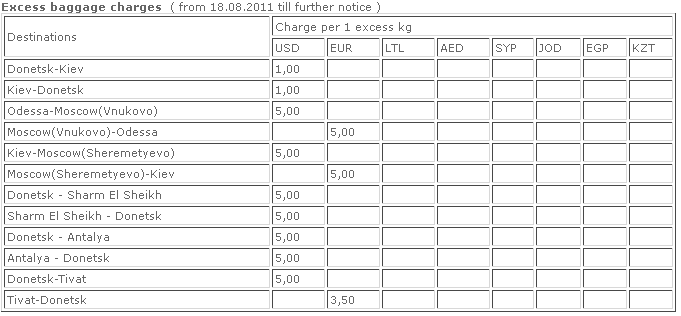 If weight of your baggage exceeds free baggage allowances you have to book your extra baggage before flight.
Extra charges apply to:
Additional, oversized and/or overweight pieces,
Skis and golf clubs, TV-set,
Audio- and video sets,
Flowers,
Herbs,
Mail over 5 kg,
Birds and pets excepting guide-dogs
Musical Instruments
Musical instruments not longer than 100 cm are considered as one piece and their transportation must be paid in accordance with the applicable passenger fares.
Sports Equipment
Sports equipment (ski, golf, surfing, etc.) is not covered by the free baggage allowance.
Pets
For transportation of live animals you should refer to Veterinary Control Department to perform formalities and draw up required documents. Phone: 38 062 344-74-91.