BUSINESS
2 pieces, single piece may not exceed weight of 32 kg / 70 lbs*
FLEX ECO
2 pieces, single piece may not exceed weight of 23 kg / 50 lbs*
ECO / MINI ECO
1 piece, single piece may not exceed weight of 23 kg / 50 lbs
LIGHT
0 piece
* Exceptionally, Business and Flexible Economy Class passengers may replace one item of their checked-in baggage with golf or ski bag.
Maximum size per piece must not exceed 158 cm.
Pooling rule applies to family or friends travelling together in case their flights are in one booking. Only the sum of pieces can be pooled – number of baggage pieces must correspond to the number of passengers.
Estonian Air baggage rules apply on flights to European destinations when the journey is on one ticket but operated by more than one carrier and the first international leg is operated by Estonian Air within Europe. When starting your journey from the destination, baggage rules of the carrier operating the first international flight, apply. On intercontinental flights baggage rules on partner airlines apply.

↑ Back to Top
Estonian Air Overweight Baggage Fee 2018 - Extra Bag Fee - Oversize Baggage
Baggage carried in excess of the free baggage allowance is subject to an additional charge. The following table can only be used as a guideline as it only shows excess baggage charges when travelling with Estonian Air point to point: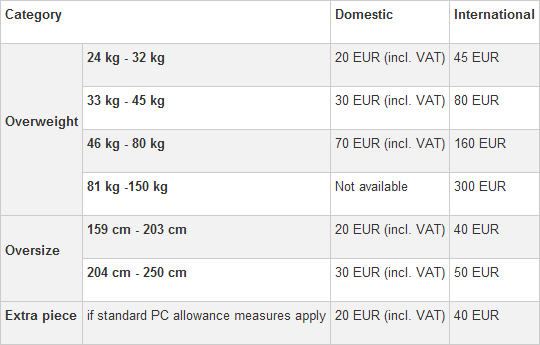 In case of overweight and oversize, charges of both categories will be calculated (overweight + oversize).
In case of overweight and oversize of extra piece, charges of all categories will be calculated (extra piece + overweight + oversize).
In case passengers have not paid for excess baggage at the ticket office, customer service centre or travel agency, excess baggage charge of 60 EUR will be collected at the departure gate.
More information about restrictions and prohibitions for goods carried with traveler on the web page of Estonian Tax and Customs Board.

Last Updated: 07 Feb 2018