When travelling with heavier, oversized or more baggage, than included in free baggage allowance, the following rates apply. You may check in up to four additional bags. Please note that the rates apply for a one way journey including connecting flights within SAS Group (SAS, Blue1, Wideroe)
You may buy additional baggage allowance according to prices below and pay via online check-in, at a check-in kiosk at the airport or at the check-in counter.
Different charges may apply for flights operated by other carriers. For baggage exceeding the allowed weight and/or size, please contact your travel agent and/or Wideroe Sales & Services prior to departure.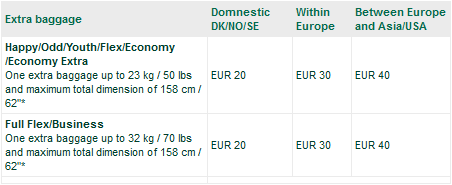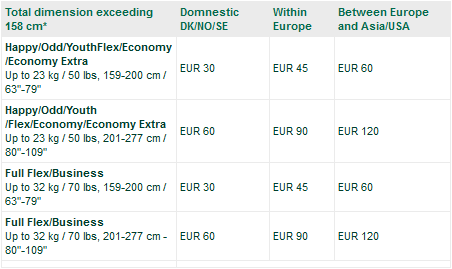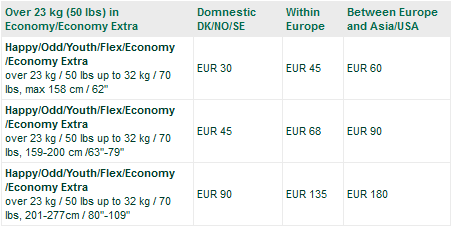 * Height width depth in cm.
For health and safety reasons each piece of your baggage must not weigh more than 32 kg / 70 lbs. If your piece of baggage weighs more than 32 kg / 70 lbs per piece, we ask you to repack the baggage or send it as cargo.
Baby Carriage
Infants have 1 bag (23 kg <115 cm) and one baby pram, regardless of service class.
Baby carriages must be collapsible. The carriage should be thoroughly packed to avoide damage to itself or other baggage in the loading compartment. However, special plastic bags designed for protection of baby carriage (stroller) is available at each station for purchase.
Musical Instruments
Musical instruments exceeding the maximum size for hand-luggage (55cmx40cmx20cm), needs to be sent as checked luggage and packed in a hard case for transportation.
A musical instrument is seen upon as checked baggage as long as it is within baggage allowance (23 kg <158 cm). If it exceeds 23 kg <158 cm, you have to pay extra. For further information see checked baggage.
Extra musical instrument (cello, guitar) can be brought in the cabin, provided that;
Each seat used is paid for
Maximum weight does not exceed 75 kilos per seat
The item can be fasten with the seatbelt
The item does not reach above the seat back
The cello is placed on the cabin floor leaning against a passenger seat and secured by an extension belt.
Some types of large special baggage that cannot be separated may weigh up to 45 kg. For example large musical instruments, will be charged according to following table:


* Height width depth in cm
Remember: All special baggage exceeding 23 kg and 1.40 cm are only on standby basis
Sports Equipment

Sporting equipment is part of the free baggage allowance. When travelling with heavier, oversized or more baggage you will be charged extra see further information at checked baggage.
NOTE! Wideroe is a small airline with small aircrafts like Dash8 100 (39 seats), Dash8 300 (50 seats) and Dash8 Q400(78 seats) and therefor all special baggage exceeding 23 kg and 140 cm are only at standby basis.