Excess Baggage Domestic
Excess baggage charges will apply when a guest's checked-in baggage exceeds the free allowance set forth by Solomon Airlines in the above table.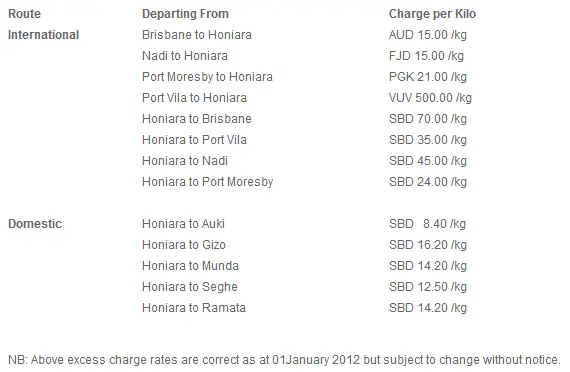 NB: Above excess charge rates are correct as at 1January 2012 but subject to change without notice.
Sporting Equipment
The following shall apply in accordance with the policy on sporting equipment.
We allow all passengers traveling with sporting equipment (eg: dive equipment, pushbikes, surfboards, etc) an extra 7kg of luggage over the standard allowance of 23kg for economy class or 30kg for business class. Should extra luggage be required it is $15.00AUD per kilo.
Sporting equipment includes, but is not limited to :
- Surfboards
- Golf clubs
- Bicycles
- Snow/water skies
- Cricket or tennis bags
Unaccompanied Baggage International
A cheaper alternative to paying excess baggage is to send your baggage as unaccompanied baggage.
Unaccompanied baggage must only contain personal effects (excluding valuables) and may not necessarily travel on the same aircraft as the guest.
A reminder that in the interest of safety and security, certain goods classed as "Dangerous Goods" must not be carried as unaccompanied baggage, checked baggage or as carry on baggage. Please see information outlined in our "Dangerous Goods" section.
For further details regarding unaccompanied baggage please contact our Cargo Department or Cargo Sales Agent in your preferred location. Please see information outlined in our "Cargo" section for further details.
NB: If you are a Solomon Airlines International transit guest travelling on a Solomon Airlines Domestic service the International checked in baggage weights does apply.
Except as provided for under the relevant provisions Solomon Airlines is not liable for loss, damage to or delay in the delivery of fragile or perishable articles, money, jewellery, precious metals, negotiable papers, securities or other valuable (including but not limited to cameras and electronic equipment), business documents or samples which are included in the passenger's checked baggage, whether with it without the knowledge of the airline. Such personal valuable items should be carried on your person or in your carry on baggage under your care.
Keep Carry-on Baggage as light as possible as there can be considerable distances to walk at some airports and space inside the cabin is limited.
Avoid carrying fragile and valuable items but where you do carry them, ensure they are well packed and carried on board with you.
Take essential medication and prescriptions on board with you.
Carry undeveloped film in your Carry-on Baggage rather than checking it in. Check with security screening officers if you have any concerns about possible damage from screening.
Laptop computers must:
- conform to any applicable regulatory requirements;
- be submitted for security screening;
- not be used during take-off and landing;
- be totally noiseless - printers must not be used inflight; and
- not interfere with the aircraft's power supply..