Kenya Airways subscribes to the baggage security guidelines recommended by the International Airline Transport Association (IATA) and its member airlines.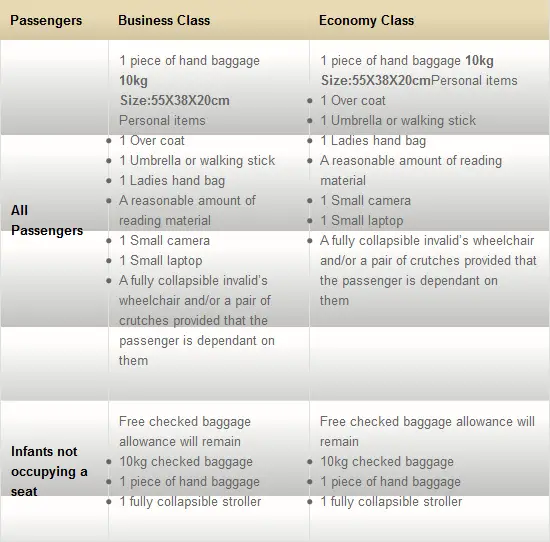 You must be able to activate any electronic devices (e.g. cd players, laptops, video cameras) at the security checkpoint. If you are unable to do so, you must pack these items in your checked baggage.
Electrical devices:
Cellular telephones cannot be used at any time during the flight. All cellular telephones must be switched off.
Devices that are permitted on board are: voice recorders, calculators, laptop computers, hand held CD players, hand-held electronic devices, computer games and photographic equipment
Please note that if you are traveling with electronic items as part of your carry-on luggage, you will be expected to demonstrate that the device is operational at security. If you do not have a power source for your electronic item, please ensure you pack your electronic item as checked luggage.
Examples of items permitted in carry-on baggage include:
Electronic equipment such as cell phones, portable music players, laptops
Non-metallic nail files
Syringes or needles for personal medical use with needle guard in place. These have to be accompanied by the medication in its original labeled container
For Your Convenience
Before proceeding to the departure area, please check and ensure that your hand baggage quantity, weight and dimensions meet the recommended guidelines.
The airport authorities have placed hand baggage sizers at check-in counters and at the entrance to departure halls. Please use these sizers to ensure that your hand baggage size conforms to the stated measurements.
If your hand baggage does not conform to the size specified, airline personnel may disallow entry into the departure area. You will then have to return to the check-in counter.
Should you need further assistance, please consult our airline passenger handling staff or your travel agent.
Restrictions for Hand Baggage
Passengers are not allowed to carry the following items in their hand baggage for passengers' safety and security reasons. To minimize inconvenience, you are advised to check in or put these items in your checked baggage instead:
Knives (including hunting knives, swords, and pocket knives)
Scissors and any other sharp/bladed objects (e.g. ice-pick, nail clippers) considered illegal by local law
Weapons such as whips, baton, or stun gun
Toys guns/gun shaped items or look-alikes, hand-cuffs
Sporting equipment such as baseball/cricket bats, golf clubs, hockey sticks, billiard cues
Devices with spillable batteries
Aerosols (hair sprays, perfumes, medicines containing alcohol) not exceeding 0.5KG/L per article and 2.0KG/L in total weight
Baby strollers
Any other items which are deemed security hazards by local law
Any other items that resemble or have similar functions to the above items
Please note that these items will be retrieved at the boarding gate by the local authorities and depending on local conditions, the items may not be returned to you