Baggage exceeding the free baggage allowance may be allowed with an excess baggage charge.
For excess baggage charge and other details, please contact to ANA Flights Reservation and Information Center.
Bulky Baggage
Carrying on of large fragile baggage (musical instruments, etc.) into cabin is limited depending on the seat type. Charges differ, depending on the size. For detailed information, please contact the ANA Flights Reservation and Information Center.
Musical Instruments and Sports Equipment
We may be able to accept musical instrument or sports equipment as checked baggage, which can be included free baggage allowance.
Skis, surfboards, golf bags, diving equipment and other such sports gear are handled like normal luggage. Please contact ANA domestic booking information center in advance in case that the totals of 3 sides exceeds 203 cm.
Even if your bulky baggage such as musical instrument or sports equipment is within free baggage allowance, your baggage may not be accepted for airport facility condition or small aircraft. Ski equipment, golf bag and fishing equipment may not be accepted for flights operated by ANA (Q84, Q83, 320) and flights operated by IBEX and Oriental Air Bridge.
Please contact ANA Flights Reservation and Information Center in advance.
The Maximum Length of Each Aircrafts
We may not accept your bulky baggage even when your baggage length is under the following maximum length according to the load condition of other checked in baggage.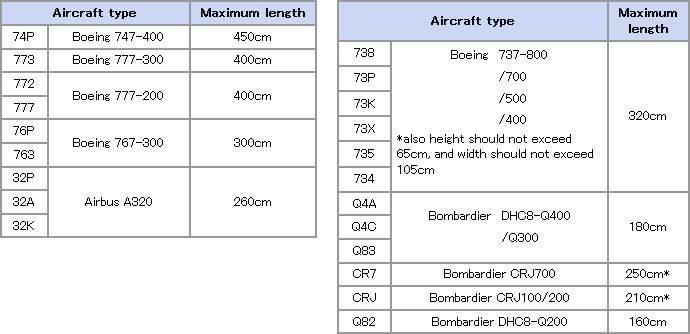 Travel Assistance for Disabled Customers
At ANA Disability Desk, we are here to provide customers with disabilities or those who are ill or injured with consultation and assistance for a safe and comfortable journey. If you require special attention or service due to medical reasons or physical limitations, do not hesitate to contact the ANA Disability Desk.