For the safety and comfort of our passengers only one carry-on item per passenger is allowed in the cabin, weighing up to a maximum of 6 kg. For all additional pieces of baggage an excess baggage rate of 10.- Euro per kg per way is charged. We ask all passengers to clearly mark their baggage with name, home and vacation address.
The baggage allowance per adult and children on flights within Turkey is 15 kg. Infants do not have baggage allowance. An excess baggage fee of 6.- TL/kg for Erzurum, Trabzon, Kars, Diyarbakir, Van and Mardin routes and a fee of 4.- TL/kg for the other domestic routes is charged per flight.
Sports Equipment
One of the following pieces of sports equipment is carried per passenger at the flat rate indicated. For each additional piece of equipment a rate based on weight and the applicable excess baggage rules is charged.
Please notify our travel center in writing at least 3 working days before departure of any sports equipment that is subject to registration.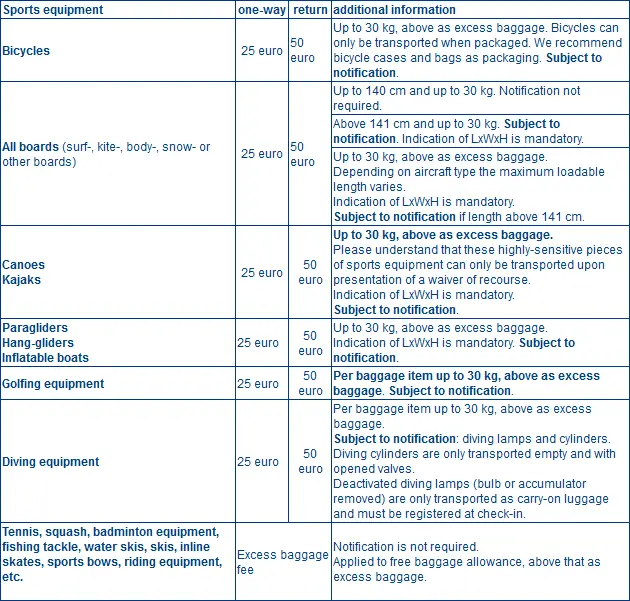 Carriage of wheelchairs
Wheelchairs or other aides linked to a passenger's physical disability are transported in addition to the free baggage allowance (free of charge) in the aircraft's hold.
Exact dimensions (depth x width x height) and weight are requested at the time of reservation.
Carriage of guide dogs
Certified trained guide dogs belonging to blind or deaf passengers can be carried free of charge in the cargo hold (AVIH) or in the passenger cabin. For safety reasons, the capacity in the passenger cabin is limited for each flight.
The requirements for carriage in the cabin include a confirmed registration, a muzzle and all required documents.
Information about import regulations, border documents (e.g. blue EU animal passport), public health certificates, inoculations, and duty regulations abroad, etc. must be obtained by the traveller.
Registrations for special care should be made well ahead of time and at least 3 working days before departure, including proof/copy of the disabled person's ID.