If you exceed the baggage allowance, you must purchase an additional baggage allowance. All extras will be accepted according to availability and will be subject to the existing fares.
Enjoy attractive prices with the excess baggage discount options, available from Tahiti or Moorea:
Roundtrip options, valid for a roundtrip to one island,
Multi-islands trip options
This offer is valid if all the excess baggage charges are paid upon your first check-in at Tahiti or Moorea.
These 2 options can be combined.
The fares are expressed in euros per kilo (2.2lbs)
Roundtrip option - 6 options are available:


Multi-islands options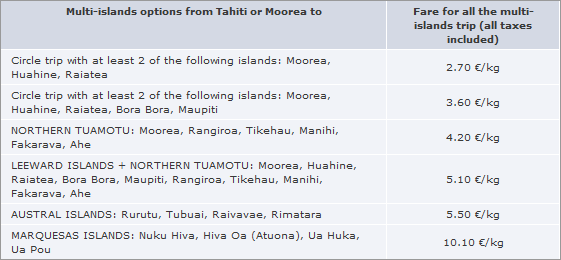 Once the excess baggage is paid, you will get a receipt.
Air Tahiti will strive to transport your excess on the flight you travel on. Nevertheless, because of operational restraints, they could be transported on next flights.
Maximum weight and size for each baggage item
Each baggage item must not exceed 32 kg (70 lb) and 150 cm (59'') (height length width, wheels and handles included).
Any baggage item exceeding these limits will not be accepted for the standard check-in but might be authorized in freight. This restriction may also apply to voluminous objects (bicycles ...).
For special arrangements, inquire through your booking travel agent or contact our air freight service in advance
Voluminous luggage
Voluminous luggage such as surfboards are not accepted at check-in. They can be transported by freight only if the length does not exceed 1,80m (70'') and depending of the availability of the flight (they may travel on a different flight than the one you are travelling on, or on another day...). Please contact our air freight service.
Reduced Mobility
Your mobility is reduced as a result of a disability (whether motor-based, visual, hearing or mental), your age or an illness. Do not hesitate to inform our booking agents and our check-in personnel of your needs (need of a wheelchair, need to be helped while coming in and out of the plane...). This will ensure special assistance when you board and disembark.
If you travel with a wheelchair and if you exceed your baggage allowance, you have a discount of 50% on excess baggage related to your wheelchair.
If you are visually impaired, you can travel without being accompanied on ATR flight only, and subject to operation constraints.
On the other hand, for your safety, you imperatively have to be accompanied on Beechcraft or Twin Otter flights (flights without flight attendants).