Last Updated:
04 Jun 2012
Flying With a Golf Bag on Aegean Airlines 2012
Aegean Airlines Golf Clubs Policy
A golf bag containing golf clubs, balls and a pair of golfing shoes
Must weigh no more than 15 kilos and be no longer than 1.40 metres.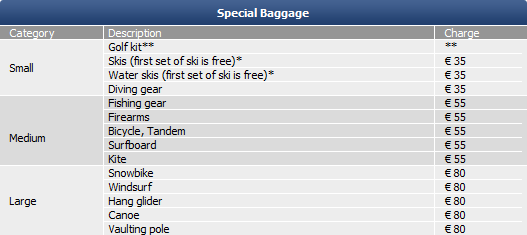 * First set of ski is free
** Golf equipment will be carried free of charge on both international and domestic routings, even if exceeding the free baggage allowance

To be charged at the above rates, the sports equipment must consist of no more than the items mentioned above. If additional items are to be carried apart from those listed for each form of equipment, then excess baggage charges will be levied.

On journeys involving a transatlantic flight and on flights operated in cooperation with other airlines, the charges may differ. For more information, please contact the Reservations Department.

Sports equipment on domestic flights operated by Aegean
On domestic flights, sports equipment is included in your free baggage allowance. For carriage to be approved, you need to contact our Reservations Department in advance of your journey to notify us that you will be carrying the items in question and to inform us of their dimensions.

Golf Clubs Related Lists and Articles
5 Best US-Based Airlines for Flying with Golf Equipment in 2017
Top 5 European Golf-Friendly Airlines in 2017