Packing your golf clubs for your next golf vacation can be a bit of a headache, what with the stiff charges for excess baggage, and worries about damaged golf clubs arriving at your destination
Take a look at these guidelines for traveling with your golf bag, and tips on how to pack your bag to keep them safe while being handled by baggage handlers. These tips will get you ready for your next golf vacation worry-free, and you'll be ready to hit the links once you step off the plane.
How to Pack Golf Clubs for Air Travel
Take a look at the golf bag rules for your airline, to know what you are allowed to take, and how much weight you are allowed. Most airlines accept a golf bag in place of a regular suitcase, and many will waive any additional "oversize" fees if you exceed the standard baggage size allowance (typically 62 linear inches). Some airlines specify rules as to what constitutes "One Set" of golf equipment, such as how many clubs and balls are allowed to be packed. Check rules whether you are allowed to pack additional items in your golf bag, or whether it must be strictly golf equipment.
In most cases, your golf bag is limited to the regular weight allowance (50lbs/23kg on most airlines) of a suitcase, and you will be charged overweight fees if exceeding this weight. Some airlines, especially low-cost carriers such as Allegiant Air, or Spirit Airlines, have lower 40lbs weight limits, so be sure to double-check the weight allowance for your airlines to avoid getting nickel-and-dimed.
5 Best US-Based Airlines for Flying with Golf Equipment in 2017
Top 5 European Golf-Friendly Airlines in 2017
Select your Golf Travel Bag - Hard Cover or Soft Cover?
The most common question is whether to travel with a hard-cover or soft-cover golf travel case. Although it is the consensus that hard-cover cases offer more protection for your golf clubs, this is still something to be considered.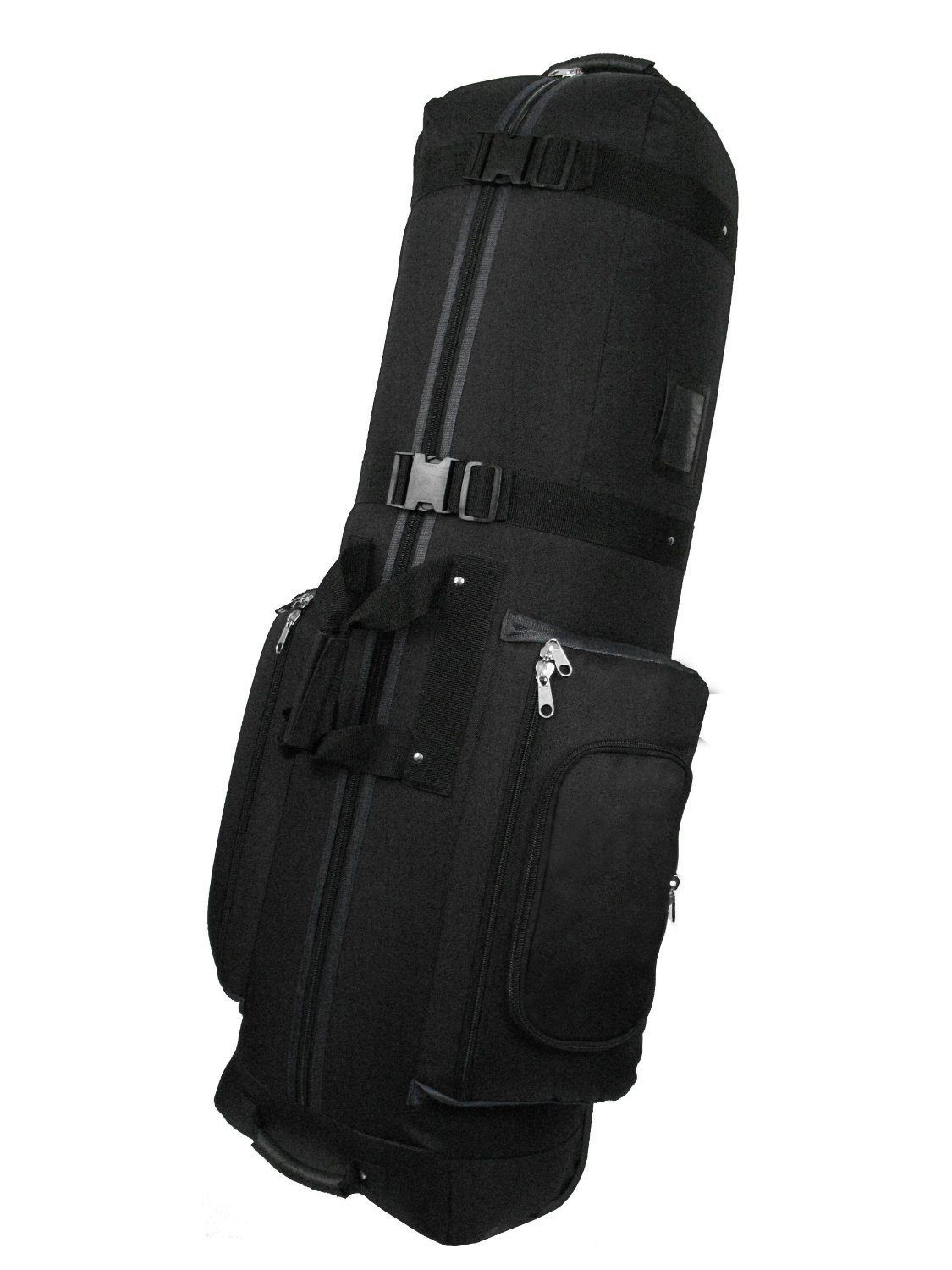 Pros/Cons of Soft Cover Travel Cases
Benefits of Soft-Cover Golf Travel Cases
Lightweight
Easy to use
Cheaper than a hard-cover
Less bulky, easier to store when not in use
Disadvantages to Soft-Cover Golf Travel Cases
Limited Protection
Uninsured by the airlines - liability release to be signed
Difficult to Transport - often without wheels
Pros/Cons of Hard Cover Travel Cases
Advantages of Hard Cover Golf Travel Cases
Additional Protection
Easier to Transport - Wheeled
Liability of Airlines
Disadvantages of Hard Cover Golf Travel Cases
More Expensive than Soft-Sided Cases
Cumbersome - placing into rental cars, takes up space in hotel
Heavier - may limit amount of equipment you can pack while staying within your airline's baggage weight limit
Recommended Golf Travel Covers/Bags/Cases
Can you buy a cheap golf travel bag for $30? Yes, you can, but would you feel comfortable putting $1000+ of golf equipment into a bag with flimsy zippers and single-stitched seams? Don't skimp on the travel bag, it will protect your clubs and keep them safe on future golf trips for many years. Here we have compiled a list of highly rated golf travel cases (both soft and hard cover) recommended by golfers around the world.
BagBoy T-10 Hard Top Travel Cover
Club Glove Burst Proof with Wheels
How to Pack Your Golf Bag for Airline Travel
Here is a quick overview of how to prepare your golf bag for your trip. Our goal is to keep all of our golf equipment safe by keeping it padded, snug, and protected, to minimize the chance of any damage while in transit.
1. Protect Your Irons
When beginning to pack your bags, cover your irons with some neoprene iron head covers. These can be a hassle and annoyance to use when playing a round, but a must-have for air travel. It is an inexpensive investment to keep your golf clubs protected from getting banged up against each other while being tossed around by baggage handlers.
2. Remove Valuables
Before getting started to pack your bag, remove any additional valuables from your bag. Use a rangefinder? Out it goes, pack it in your regular suitcase or carry-on.
3. Inventory your Items
Nobody wants your golf bag to get lost or damage, but it is always better to be safe than sorry. Before getting started with packing your bag, remove everything from your golf bag and take a full inventory of everything you will be packing. This will be helpful in case of any insurance claims in case of a lost, delayed, or damaged bag. Take out your phone, and take some pictures of everything you are packing, as evidence of what you are bringing.
4. Wrap the Shafts with Golf Towels for Additional Padding
The shafts are the most vulnerable part of your club while travelling, so it is best to wrap them up with golf towels, dry-fit shirts, or other soft items to keep them from getting crushed.
5. Pack your Clubs in the Middle of the Bag
You want to keep your clubs from moving around, so it is best to pack your clubs tightly in the middle pockets of your golf bag. This will keep them nice and snug, and keep them from moving around and hitting against each other. If you like, pack some clubs with the head down, to fit them tighter together. The other empty pockets of your golf bag will serve as additional padding around the shafts.
6. Pad the Outer Pockets
Pack the outer pockets of your golf bag with towels, t-shirts, or bubble wrap to create extra padding around the shafts.
7. Remove the Head of your Drivers
If you have an adjustable driver from which you can remove the head, do it. This will shorten the length of your longest and most expensive golf club, and shorten the overall length of your golf bag. Wrap up the head, and pack it in your bag. Insert the shaft of your driver together with the rest of your clubs.
8. Insert your StiffArm or Backbone to protect your clubs
A key piece when protecting your golf clubs is a Club Glove StiffArm, or Bag Boy Backbone. These are telescoping crutches that fits in your golf bag with your clubs, adjusting to extend just beyond the length of your longest golf club. The StiffArm or Backbone will absorb the full force of impacts if your golf bag is dropped or crushed, protecting your clubs. These are an essential piece to keep your clubs safe, and most seasoned golf pros swear by this simple yet effective piece of protection.
9. Bungee It Together
Keep your golf clubs from moving around by bungeeing it all together. Wrap it tight around all of your clubs and the StiffArm, so it is one solid package. Wrap some extra towels or clothing around the top of the clubs keep them safe. Place your rain cover or a hard-shelled cover over top.
10. Pack Into your Travel Case
Now that your golf bag is packed, get it into your travel case. The goal is to have everything in your golf bag immobilized as much as possible, to keep it from bouncing and banging around. Hopefully your travel case will have some strapping inside to securely attach itself to the golf bag.
Use a luggage scale to check the weight of the entire bag. If you are still within your weight limit, you can pack some additional soft items such as t-shirts or shoes to provide some additional padding and protection.
11. Tag your Bag
Place some identifying markings on your bag, whether colourful streamers or brightly coloured stickers. This will make it easy for you to identify your bag at the baggage claim, and let others with similar bags know that it is not theirs.
Additionally, attach some luggage tags with your name, cell phone number, email, and hotel or resort where you will be staying, in case your bags get lost and need to be delivered to your afterward.
Your bag is packed, you are now ready to head to the airport without worrying about your golf clubs being damaged in transit.
Additional Tips for Travelling with Golf Clubs
Tip: Stay with your bag at TSA inspection
You may be asked to drop off your golf bag at the Oversize Baggage drop-off area, rather than the standard baggage drop. Your bag will be x-rayed and may be opened up to be inspected. Stay with your until it is inspected, to make sure it closed properly and everything is still safely packed. You do not want TSA agents to leave your golf clubs vulnerable to damage by not re-packing your bag correctly.
Tip: Pick up your bag at the Oversize Baggage carousel
At arrival, your golf bag may not be delivered at the normal baggage carousel, but at a special Oversize Baggage carousel, typically off to the side of the baggage claim area. Be sure to ask in the baggage hall where is the oversize baggage carousel located, to pick up your bag once it arrives.
Related Pages...
5 Best US-Based Airlines for Flying with Golf Equipment in 2017
Top 5 European Golf-Friendly Airlines in 2017
Full Listing of Golf Clubs Policies of 300+ Airlines