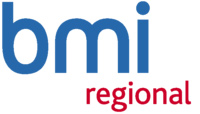 Last Updated:
08 Jul 2011
Surfboards on bmi Regional 2011
bmi Regional Surfboards Policy
Customers travelling in Business and Economy Flexible can take a piece of sporting equipment or other exceptional items of baggage as part of their baggage allowance as long as it is within the total allowance.

Customers travelling on an Economy fare will be charged a flat handling fee of GBP30 / 34 EUR per sector for each item.

Business:
Free if within baggage allowance. If in excess of baggage allowance:
30 GBP /34 EUR fixed fee, per item, per sector.

Economy:
30 GBP/34 EUR fixed fee, per max 20kg item (or less), per sector regardless of weight allowance. Any item between 21-32kg will be charged an additional fixed fee of £30/€34 per sector.

Surfboards Related Lists and Articles
Top 5 Surfboard-Friendly Airlines in the US 2017
Boardbags and Surfboard Covers
Get Listed Here - $100 in FREE Advertising!