Last Updated:
07 May 2012
Surfboards on Alitalia 2012
Alitalia Surfboards Policy
Sports equipment weighing 23 kg or less is considered normal baggage and is included in the baggage allowance. Sports equipment exceeding 23 kg is subject to the normal excess baggage fee.

The table below lists the excess baggage fee* applicable only to surf and windsurf boards and tandem bikes on single flights: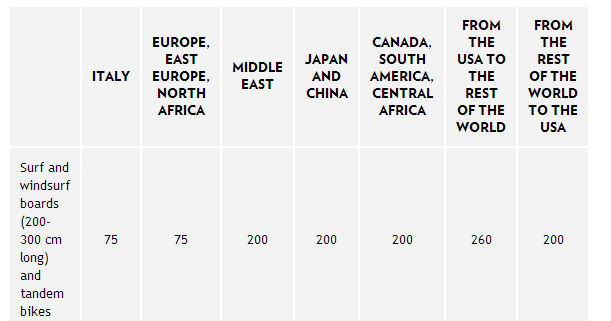 *The currency given for the excess baggage fee is as follows: EUR (from Europe, Eastern Europe, Japan and China), CAD (from Canada), and USD (from USA and rest of the world)

SPECIFICATIONS FOR SURF AND WINDSURF BOARDS

Depending on the size of the aircraft, surf and windsurf boards may not be accepted on board. Because of the variety of sizes of this type of sports equipment, please check with the Ente Normativa Merci (freight regulations board) before booking/checking in. Please note that for the check-in and shipping of surf and windsurf equipment you must:

Declare this item when you book your flight and, should you take a connecting flight on another carrier, get approval from this carrier; otherwise it will only be accepted on the Alitalia flight
Check in for your flight at least an hour before departure
Make sure the surf and windsurf equipment is properly packaged in containers or wrapped to protect it during loading and unloading
Surfboards Related Lists and Articles
Top 5 Surfboard-Friendly Airlines in the US 2017
Boardbags and Surfboard Covers
Get Listed Here - $100 in FREE Advertising!