Last Updated:
20 Jan 2016
Surfboards on EasyJet 2016
EasyJet Surfboards Policy
An additional non-refundable fee is charged per item of surfboards (sports equipment) as follows. Surfboards qualify as "Large Sports Equipment" under EasyJet rules.

LARGE SPORTS EQUIPMENT
Bicycle - maximum weight 32kg
Canoe / Kayak - maximum weight 32kg
Windsurfer - maximum weight 32kg
Hang glider - maximum weight 32kg

if Paying Online
GBP 35
EUR 45
CHF 60
DKK 300
CZK 1050
HUF 12200
MAD 445
PLN 180
SEK 365
USD 50

if Paying at Airport
GBP 45
EUR 60
CHF 70
DKK 360
CZK 1200
HUF 14500
MAD 535
PLN 210
SEK 430
USD 60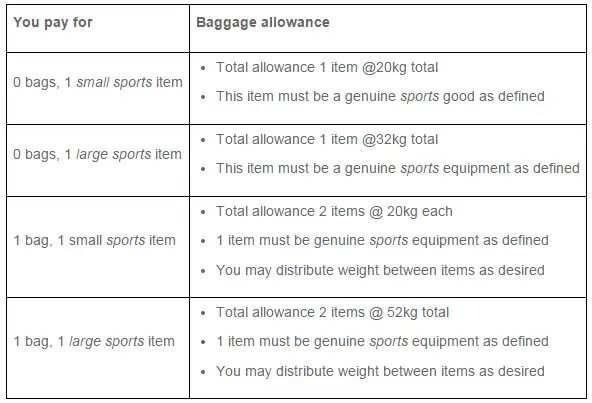 One passenger travelling buys a bag and an additional sporting allowance. This gives an allowance of 2 items (which must include 1 sporting item), at a total weight of 32kg. However, if the sporting item is 18kg and the bag is 14kg then that's fine with us!

Surfboards Related Lists and Articles
Top 5 Surfboard-Friendly Airlines in the US 2017
Boardbags and Surfboard Covers
Get Listed Here - $100 in FREE Advertising!