Last Updated:
05 Feb 2012
Surfboards on Air Mauritius 2012
Air Mauritius Surfboards Policy
The following rates apply for travel in Economy and Business classes.

European Routes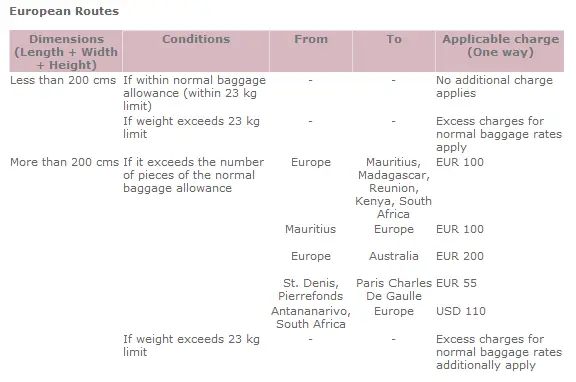 Non-European routes (excluding Rodrigues)

If dimensions (length + width + height) of equipment are less than 200 cms and its weight is within 23 kgs, the equipment is considered as part of the passenger baggage and no charge applies.

In case the dimensions exceed 200 cms or the number of pieces exceeds baggage entitlement, then a charge of USD 200 (one-way) applies.

Exceptions:
From Mauritius to St. Denis, Pierrefonds – Applicable charge of USD 55
From St. Denis, Pierrefonds to Mauritius – Applicable charge of EUR 55

If weight per piece exceeds the allowed 23 kg limit, excess charges for normal baggage rates additionally apply.
Surfboards Related Lists and Articles
Top 5 Surfboard-Friendly Airlines in the US 2017
Boardbags and Surfboard Covers
Get Listed Here - $100 in FREE Advertising!