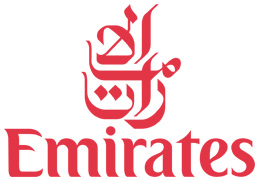 Last Updated:
18 Oct 2017
Flying With a Snowboard on Emirates 2017
Emirates Snowboards Policy
Snowboard equipment can be carried as part of your normal baggage allowance. However, in some situations additional charges may apply when checking in snowboard equipment.

A set of snowboarding equipment may consist of one snow board and one pair of boots.

Snowbaords on Emirates Flights involving South/Central/North America
Total dimensions (length + width + height) of each piece must not exceed 150 cm (59 in.). Customers with individual items exceeding these dimensions up to 300 cm (118 in.) will be charged an additional fee. Individual items with total dimensions exceeding 300 cm (118 in.) cannot be transported as checked baggage and must be sent as cargo or freight.

Passengers travelling with snowboard equipment thatís carried as excess baggage (more than their allowance of two pieces of checked baggage) will receive 33% off the standard excess baggage charge. This applies only to the first set of equipment. For any additional sets, normal excess baggage charges apply.

Rescue equipment, including avalanche equipment, is considered normal baggage and will incur normal excess baggage rates if it is in excess of your baggage allowance. All equipment must conform to the Dangerous Goods Regulations. Contact your local Emirates office for details.