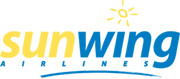 Last Updated:
05 Jan 2018
Flying with Kitesurfing Boards and Equipment on Sunwing 2018
Sunwing Kitesurfing Equipment Policy
Sunwing accepts kitesurfing equipment free of charge, in addition to your regular checked baggage allowance. Kitesurfing equipment is complimentary up to 20kg. If the complimentary 20kg allowance is exceeded, overweight and oversized bag fees will apply.

The container may include a kiteboard, power kite, helmet and related accessories/clothing. If weight exceeds 20 kg of complimentary allowance overweight/oversized baggage fees apply. All equipment must be securely packed in a rigid or hard-shell container specifically designed for storage in the cargo hold.

A limited release form must be signed at check-in.

Passengers are allowed to carry only one piece of sporting equipment per passenger.

Passengers are not permitted to include personal items such as clothing or other non-related items in the sport equipment container.