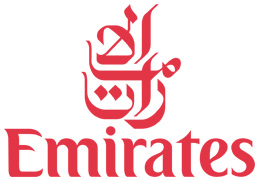 Last Updated:
18 Oct 2017
Flying with Kitesurfing Boards and Equipment on Emirates 2017
Emirates Kitesurfing Equipment Policy
Emirates will accept wind surf boards, kite surfing equipment, kayaks, body boards, pole vault or other sporting equipment as checked baggage and part of your standard baggage allowance, provided:

Any sails are detachable and collapsible.
It is appropriately packed in a hard-shell packing case. If not a Limited Release will be required.

For surf boards, the following precautions must be taken:
Fins should always be removed, or, if they cannot be removed, should be firmly packed with polystyrene foam.
Both nose and tail should have bubble-wrap or neoprene foam attached for protection.
The rails (sides of the board) should have cardboard down the sides to absorb shock.
The board should be packed in a properly padded surf-bag.
Should your overall baggage weight or amount exceed the normal free allowance, excess baggage rates will apply. Please contact your local Emirates office for information on excess baggage rates.