Last Updated:
08 Jul 2011
Flying With a Kayak on jet2.com 2011
jet2.com Kayaks Policy
For the carriage sporting items such as snowboards, bicycles, surfboards and body boards please see below. To pre-book large water sports equipment and for charges for other, non listed sports equipment, please contact the Call Centre. We cannot guarantee extra space on the flight on which you are booked for such items. If space is not available, the items will be sent on the next flight with available space. Special conditions apply to the carriage of sports and outsize items. We can carry sporting equipment up to a maximum per item weight of 32kgs. Apart from these exceptions, we cannot carry any single bag that exceeds 25 kg in weight.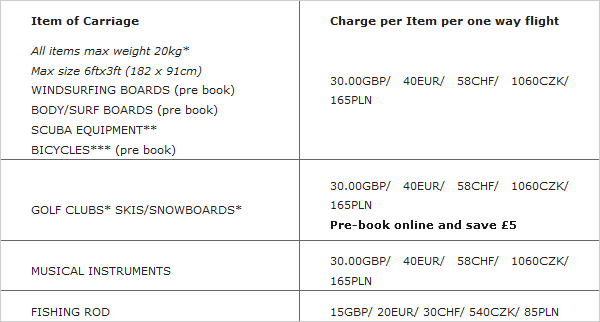 *Any weight over this limit will be charged at standard excess baggage rates.
Items marked as (pre book) must be pre-booked through our Call Centre. For all other items listed above, if you are travelling as part of a large party (e.g. more than 9 with golf clubs) please advise our Call Centre in advance so our ground handlers can be advised. Save GBP5 by pre-booking online.

Any charges are payable at the departure airport and are non-refundable. Please retain your receipt to show when checking-in for your return flight otherwise you will be charged again. Payment is accepted in local currency cash or by payment card which support foreign currency transactions. If you are planning to travel with outsize baggage please allow extra time for the check-in process.