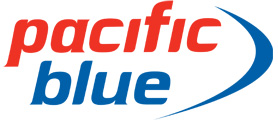 Last Updated:
28 Jan 2016
Flying With a Bike on Pacific Blue 2016
Pacific Blue Bikes Policy
Each item of sporting equipment represents one piece of checked baggage allowance, provided that it does not exceed the maximum size and weight limits.

Note:
If you are travelling on a Saver fare with only sporting goods you will be required to purchase a checked baggage allowance for each separate piece you are carrying. We advise you to pre-purchase baggage online or by calling our Guest Contact Centre. Baggage allowances added/bought at the airport will be charged at a higher fee.

Bicycles will only be accepted onboard as checked baggage if packaged in a hard or soft manufactured bike box. Bike boxes may be purchased at the airport check-in counter. Before bicycles can be accepted for uplift, they must be packaged as follows:

Generally, the following applies to disassemble a bike:
Remove front wheel
Remove back wheel if necessary
Remove pedals
Lower of remove seat post
Turn handle bars sideways, tape to the frame, to secure front forks
Remove any accessories
Deflate the bicycle tyres

When packing a bike, remember to:
Place any accessories in the box (ensure that only bike parts are packed in the box)
Seal, label and tag the box
Ensure no part of the bike is protruding out of the box

Note:
If a bike is not packed according to Virgin Australia's requirements, or is not checked in prior to one hour before departure, we will not be able to take the bike onboard.

We recommend that guests pre-purchase a box and pack their bike at least 24 hours prior to departure to ensure it is ready on time. Bike boxes can be purchased the airport for $15.00.

Bikes Related Lists and Articles