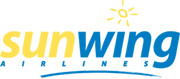 Last Updated:
05 Jan 2018
Flying with SCUBA Diving Equipment and Tanks on Sunwing 2018
Sunwing SCUBA Diving Equipment Policy
SCUBA equipment is accepted by Sunwing in addition to your regular free baggage allowance. A 20kg limit is complimentary, but must include only scuba equipment.

A full scuba set includes one of each: air supply regulator, pressure gauge, tank harness, face mask, pair of diving fins, snorkel, knife, spear gun, air pistol and safety vest. All equipment must be securely packed in a rigid or hard-shell container specifically designed for storage in the cargo hold. If weight exceeds 20 kg of complimentary allowance overweight/oversized baggage fees apply. A limited release form must be signed at check-in.

Passengers are allowed to carry only one piece of sporting equipment per passenger.

Passengers are not permitted to include personal items such as clothing or other non-related items in the sport equipment container.