Advertise on Airline-Baggage-Fees.com
The Airline-Baggage-Fees.com network is a trusted travel resource for nearly 50,000 unique visitors every month in search of information for travelling with unusual/oversize baggage, such as sports equipment and with pets. Our audience consists of thousands of qualified travellers in the process of planning final trip details, mainly within 2-3 weeks of their scheduled departure.
Our receptive audience is keen to explore opportunities to make their trip an unforgettable journey, whether it be an off-the-beaten-path adventure, or a useful product or service that offers them a smoother travel experience. As travellers dedicated enough to their sport to consider bringing their own sporting equipment, our visitors are always looking for inspiration and destination ideas for their next trip.
We would like to present you the opportunity to become a part of our visitors travel plans by offering highly targeted placements in relevant categories at a key stage in the trip planning process.
$100 in Free Advertising - Risk Free Trial, No Credit Card Required
What Kind of Ads are Available?
All listings are leaderboard 728x90 px banners. We accept image ads in the following formats: .PNG, .GIF, .JPG. Below is an example of an example of how the 728x90 banner will be displayed. Flash/Rich Media ads are not currently accepted for these ad spaces.
Positions are available for specific ad sections depending on the sport/category pages being targetted. For example, all Bike related pages will contain ads that fit into Bike-related ad sections that speak to our visitors, such as Bike Bags and Boxes, Bike Shipping, Bike Tours and Trips, Bike Travel Insurance, etc.
How can I Target my Ads?
Advertisements are placed in relevant sections of the page, served to a highly curated and targeted audience. They are placed on pages specifically related to the category/sport you are targetting, and can be further filtered to display only for certain specific airlines.
Our audience can be targeted by Category/Sport, with specific ad-sections within each category designed to provide useful information to our visitors. Here is a list of the ad-sections for every category/sport.
Archery

Archery Outfitters
Archery Travel Insurance
Arrow Travel Cases
Bow Travel Cases
Bow Hunting Expeditions

Bikes

Bike Bags and Bike Boxes
Bike Charities
Bike Destinations
Bike-Friendly Accomodation
Bike-Rack Car Rentals
Bike Rentals
Bike Shipping
Bike Tours and Trips
Bike Travel Insurance
Events, Races, Festivals

Fishing

Boat Charters
Boat Rentals
Fishing Lodges
Fishing Events/Tournaments
Gear, Bait, Tackle
Travel Bags/Cases

Golf

Courses
Golf Resorts
Golf Travel Bags
Golf Travel Guides/Vacations
Golf Travel Insurance
Golf Travel Agents

Kayaking

Kayak Bags and Covers
Kayak Shipping
Kayak Travel Insurance
Kayaking Tours/Trips/Vacations
Outfitters
Roof-Rack Car Rentals

Skiing

Cat/Heli Skiing
Gear
Lift Tickets
Ski Resorts
Ski Shipping
Ski Travel Bags
Ski Travel Insurance
Ski Travel Jobs
Ski Lodges

Snowboarding

Gear
Heli/Cat Riding
Insurance
Lift Tickets
Lodges
Resorts
Snowboard Shipping
Snowboard Travel Bags

Windsurfing

Windsurfing Rentals
Boardbags and Quiver Bags
Gear
Roof-Rack Car Rentals
Shipping Gear
Windsurfing Travel Insurance
If you do not fit into these ad-sections, please request the creation of a new ad-section that could benefit our visitors for that specific category/sport.
How Much Does It Cost?
All of our ads are priced on a set Pay Per Click basis, meaning that you only pay for performance. The cost per click (CPC) is set depending on the level of airline targeting for your ad. The CPC rates are as follows:
All Airlines: $1.00 / Click
Specific Airline: $2.00 / Click
Search engine spiders and non-human clicks are filtered out, so you are not charged for non-human traffic.
When Will My Ads be Displayed?
Your ads will display once they have been reviewed by our staff, and you have a positive account balance. We will fund your new account with $100 in free advertising credits to help get you started right away. You can pause or remove your ads at any time.
A maximum of three listings per ad section (eg. Bike Rentals) are displayed at a time. Priority is given to ads targeted to the specific airline whose information currently being viewed on the page. If more than 3 ads are competing for the same ad section, they will be sorted by performance, prioritizing those with the highest CTR. The three best performing (most relevant) ads will be displayed.
Only one of your ads will be displayed per ad-section, even if you have multiple ads that match the targeting profile for a page. We automatically select your best performing ad (based on CTR and airline targeting) as the one to be displayed.
How Do I Pay for My Ads?
Your account balance can be funded either by VISA, Mastercard, Discover, American Express, or Paypal. For a limited time, new accounts will receive $100 in free advertising credit to help get you started right away. No credit card or payment information is necessary to receive this credit, so you can begin running ads with a completely risk-free trial in just a couple of minutes.
You will be notified when your account balance is running low, so that you ad campaign is not interrupted. You must have a positive account balance for your ads to continue running.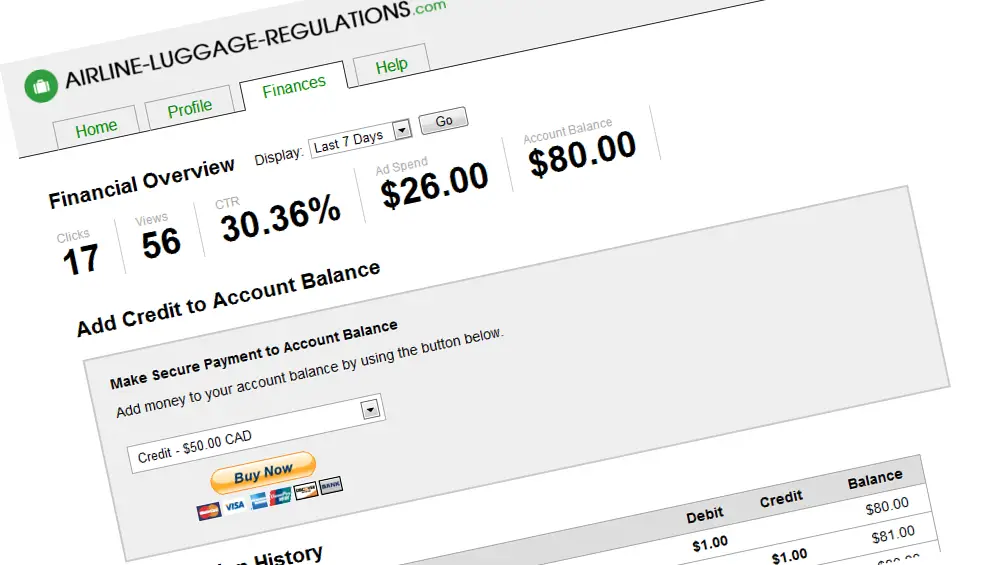 What Performance Metrics/Click Details do You Provide?
You will have access to our custom advertiser dashboard to manage your advertisements and to analyze your performance data. All impressions and clicks are logged to provide you with comprehensive data-visualizations to help assess your ad effectiveness.
Real-time tracking for any interaction with your ads provide you with up-to-the-minute performance reports. Individual click reports for every advertisement offer detailed breakdowns of every click, including time, value, airline, sport, and location and are available at any time.
What Level of Traffic are we Talking About?
Below is our traffic analytics data for visits to Airline-Baggage-Fees.com in the last month, May 2012. Some key figures are as follows:
Total Visitors: 89,692
Page Views: 131,094
Avg. Visit Duration: 01:12 min
% New Visits: 86.59%
Organic Search Engine Traffic: 82,208 (91.66%)
You can choose to display your ads to as targeted or general a segment of our visitors as you wish. By speaking directly to your key demographic, you can reach those who are most likely to be interested in what you have to offer.
The above information was collected using Google Analytics software. If you have any questions or would like some more information, please send us an email at support@airline-luggage-regulations.com and we will get back to you.
$100 in Free Advertising - Risk Free Trial, No Credit Card Required